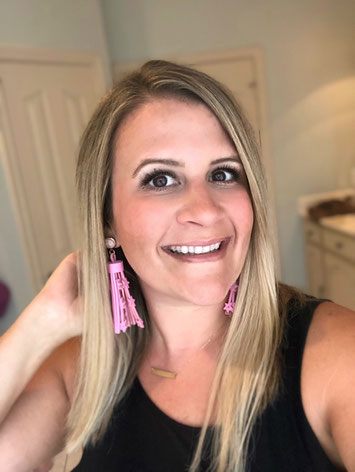 We had only been living in Texas for one month the day I met her. She was the first friend since moving who initiated conversation with me before I did. This was a rare occurrence and continues to be, I tend to take the lead when it comes to meeting new people. It was a compliment on my pants, pants that I still own and love. I had already noticed her. She hadn't been in our class before. It was a gymnastics class I had desperately needed for my son and I in hopes to get us out of the house and socializing at our new location. Typically that one day every week, we joined with the same moms and the same kids. Not this day, this day was special. I remember feeling hopeful, did I finally click with someone? She was open, smiling, friendly without reserve. I was enamored by her sidekick daughter with her blonde locks and undeniably adorable face and fun loving energy. We got chatting, I learned her name was Lauren. Lauren was funny and made me laugh on multiple occasions. Lauren was also the name of multiple best friends from home so I asked her if she had any nicknames. "You can call me Lala" she said, "That's what my nieces and nephews call me." And there it was, the simple comfort of someone offering a nickname that her family uses. I also learned, we may or may not be seeing them again. They sometimes did drop-ins at this class but hadn't joined the full term that we had. I recollect my disappointment because already, I knew that I wanted to spend more time in her presence. 
        Class ended, we said our awkward goodbyes and headed to our car. Just as we had buckled in, there's a knock on my window. It's her. She's complimenting my outfit again, this time specifically the lacy bra and asking where I got it, which for me is like, automatic friendship. I felt nervous but excited because this meant the feeling was mutual, right? My memory is foggy but if I'm correct we exchanged numbers and then later connected on Facebook. Taking this step seems like an integral part of meeting a new friend, especially at our age. I personally find it notably compelling to scroll through profile photos and go as far back as college. Yes, it is indeed a form of stalking but consensual between two adults and honestly a way to accelerate getting to know someone that you have a connection with. And this my friends, is how I was able to look back and see that it was indeed September of 2016 in which we first became "friends."
        A couple play dates later I realized not only was she funny and kind, she's also extremely generous. From handing my son a cement mixer toy telling him he could take home, a batman cape he still has, to a vintage Gap jacket she turned over to me because she "knew I could pull it off." I wish I could say that we continued to hang out weekly and became inseparable. That was my hope and desire, and I still sincerely believe that had she lived closer this would have indeed been the outcome. It's a lame excuse but I am from New York and anything over a fifteen minute drive is a stretch and well, she lives thirty minutes from me and there is no straight shoot or highway to get me there. Something special to note is this, Lauren invited our whole family over for dinner. This was another first for us. How kind and inviting they were to my son, myself and my husband. The kids had a blast, conversation came with ease. This is the kind of person she is, true pure goodness. She treats you like you're family and like she's known you forever. She's one of those people who's character really stands out in a multitude of ways. 
       Time would go on between us seeing each other, too much time! But not once did I consider us to "fall-out" or become just acquaintances. I did however notice at some point last year when her posts on social media were less, I hadn't heard from her or seen her. I felt like maybe I was wrong, maybe she had let go of our friendship. Then it happened, a text came in with a link. The first word my eyes skimmed was cancer, as I write this my eyes are welling up. I didn't understand what this was, what was happening? It was a link to a blog she had started up to share her story and update family and friends with her current medical situation. Lauren had been diagnosed with invasive ductal carcinoma, stage 1, ER+. I didn't know those words, panicking I read furiously and quickly as I fought back tears. I felt helpless and terrible for thinking or doubting our friendship. How did I not know sooner? What kind of friend doesn't check in and make sure everything is ok? I felt ashamed of the fact that I still hadn't returned the favor of having her family over for dinner two years later.  But this wasn't about me, what she was dealing with was a nightmare, something I have feared all my life for reasons I'll save for next time. I wished we had that friendship I hoped for where I'd jump in my car and speed over to hug her, hold her hand, sit with her, cry with her. I felt by this time I hadn't done enough in that first few minutes of finding out the news. She had already been through the depths of this horror. This is the thing about Lauren though, she's surrounded by friends and family who adore her for the same reasons I saw from the first time we met. I was just grateful for the text, grateful that she was willing to share this very intimate information with me and grateful to know her at all. It was painful to imagine such a positive joyful soul getting crushed with a disease that is anything but pleasant. Lauren endured two surgeries and four rounds of chemo. She will still give all the credit of her strength to those around her who helped her fight and heal but I know for a fact that any of us would throw that right back at her. For she is the one who gifted all around her the courage and grace way before any of this hit her. I am beyond happy to share that today Lala is cancer free and a survivor in every meaning of the word. It is my greatest pleasure to name my very first Boon Bauble design after her. 
        As she recently shared, remission does not change the constant fear. It never truly goes away. It's always in the back of your mind. Let this remind us that not just in the month of October should we be mindful of our survivors but reach out and let them know we're still here for them. For each pair of Lala earrings we sell, we will be donating $5 to Casting for Recovery, an organization that provides healing outdoor retreats for women with breast cancer at no cost to the participants. In Lala's words, "That's a cool AF group!" (fish emoji) 
#ILoveHer
To purchase a pair of Lala earrings click below: